KFV was created with a view to presenting the national culture to local and international tourists by collecting in one place the folk customs in our culture that have been passed down for a long time. The Joseon period village in KFV is composed of real houses relocated and reconstructed from different parts of the country, thus enacting the culture in daily life through four seasons based on thorough historical verification and consultation. Presenting experience-style outdoor exhibitions, craft in daily life continuing traditional methods, and seasonal customs marked by solar terms.
KFV has since its foundation in 1974 been loved as a tourist destination that provides vivid cultural experience as well as traditional culture set in beautiful nature. The Korean tradition is the Korean people's mode of life that has permeated every portion of our contemporary life. The role of KFV consists in renewing the value of our traditional culture and preserving it so that it may shine throughout the world. Come and join in witnessing in the traditional culture cherished by KFV the value that it continues to create in experiencing past and present and opening up future.

Location : #90 Minsokchon-ro, Giheung-gu, Yongin, Gyeonggi-do.
Area : 245acres
Opened on Oct. 3, 1974 (ground breaking in 1973 and completion in 1974).
Construction area : 29,000㎡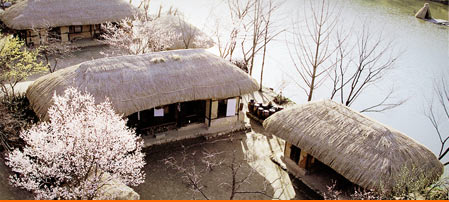 Joseon Period Houses and Traditional Work Shop
KFV allows visitors to survey the architectural characteristics of the Joseon period houses from different parts of the country. And visitors can experience and purchase traditional craft items at the nine ateliers in operation.
270 houses on display.
Nine ateliers (blacksmith's workshop, earthenware, bamboo ware, wooden ware etc.)
20,000 or so traditional instruments from daily life (wooden furniture, porcelain, farming tools etc.)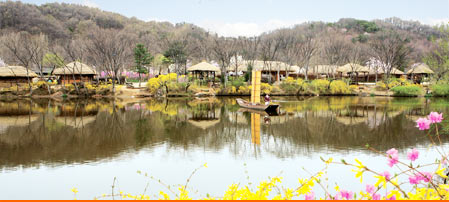 A Beautiful Village Set in Nature-Given Environment
KFV boasts a geomantic location 'facing water and backgrounded by mountains'. The farm work also adds flavor to the village scene.
245acres (Folk village, Play Village)
Traditional farming through four seasons (in farm land of 13,223㎡)
Growing 80 or so trees and 100 or so traditional farming products (including some 30 herbs).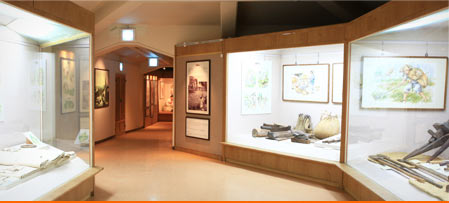 Various Exhibition Halls Providing A Single-View Survey of Folk
Culture With various exhibition halls, KFV provides a sweeping
view of the folk culture.
Seven traditional folk exhibitions halls (1,100㎡ accommodating 200 persons) with 860 cultural artifacts.
Nine world folk exhibition halls (1,700㎡ accommodating 200 persons) with 3,000 or so cultural artifacts.
One earthenware exhibition hall (480㎡ accommodating 80 persons) with 700 cultural artifacts.
One masked dance exhibition hall (270㎡ accommodating 100 persons) with 30cultural artifacts.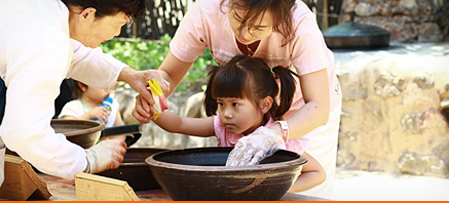 Traditional Art Performances with Excitement that makes the audiences dance with their shoulders.
KFV Main Performance Space (accommodating some 500 persons)
Traditional Wedding Ceremony Space (accommodating some 200 persons)
Family Park Performance Space (accommodating some 200 persons)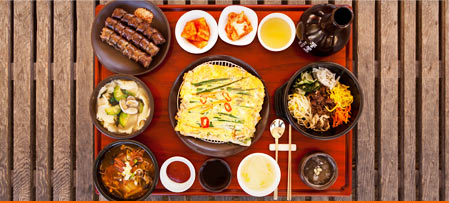 Traditional Food Filled with Heartiness / Shopping
Shop District Korean restaurants: Korea House, Gilmokjip, and Yangbanjang
Traditional teahouses: herb medicine shop, and traditional teahouses
Marketplace
Eight folk village shops
Play Village restaurants: Railroad and Minsok Banjeom
Souvenir and ateliers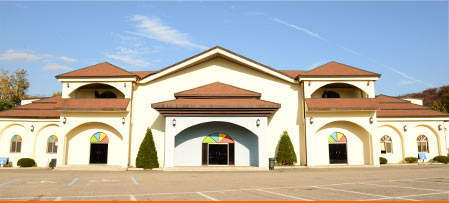 Tradition-embedded Youth Training Facilities and Youth Hostel
Five lodging buildings (accommodating 541 persons) and Auditorium (accommodating 500 persons).
Etiquette Education Center
Two cafeterias and one shop.
Forest bathing trail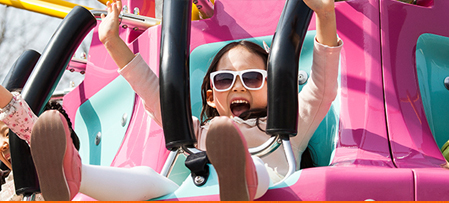 Play Village Where Kids' Dreams Grow
15 play facilities including Viking.
Sled slope in winter.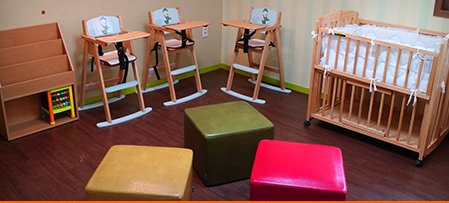 Various Amenities
Tourism information, Clinic, Broadcasting Room, and Lost Children Station.
15 restrooms, and some 30 pavilions as rest areas.
Stroller rental, wheelchair rental, personal stuffs check-in etc.