Lying in a spacious site of 990,000㎡ and in nature-given geomantic location 'facing water and backgrounded by mountains', Korean Folk Village (KFV) is a village from the Joseon period composed of real houses relocated from provinces of the country. Reconstructed through a long survey of houses remaining in different parts of the country and authentication by specialists, it is a real village from the Joseon period that unfolds in seasonal transformation scenes from everyday folk culture meticulously collected.
The village was created with common people's houses and aristocrats' houses relocated or restored from different parts of the country such as south, middle, north, and islands. It presents the real life from old Joseon life, which includes gwana (provincial government office), seowon and seodang (the educational institutions), hanyakbang (the medical institution), Buddhist temples and seonangdang (the religious buildings), and the fortune-teller's place.

Folk culture in all seasons and various traditional experiences await visitors.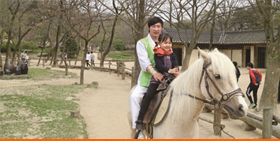 Visitors can try a ride on the horses that belong to the stately Equestrian Feats Group of KFV.
MAP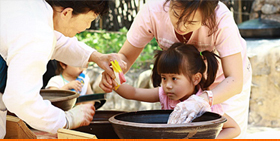 A participant uses such natural materials as gardenia seeds and sappan wood to put subtle color on a handkerchief.
MAP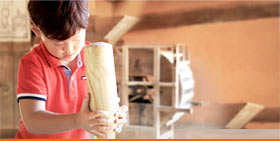 Visitors can tour KFV, experiencing various aspects of everyday life in farm houses.
※ The schedule of the events is subject to change due to weather conditions and internal reasons.
※ Ferry boat riding and traditional dyeing experience are not available in winter (december through February).